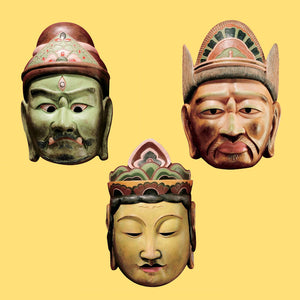 Three of the Deva Guardians of Buddhism said to guard the 12 sacred directions, these entities represent the highest state of existence before achieving enlightenment. Their expressive, ornately carved faces are cast in quality designer resin, and then delicately hand-painted to capture their ancient Asian details. A wonderful addition to your walls, or sitting in a raffia filled crate as a new delivery to your adventure room.
Jizaiten: 7"Wx4"Dx11½"H. 3 lbs.
Katen: 7½"Wx4½"Dx12"H. 3 lbs.
Taishakuten: 7"Wx4"Dx12"H. 3 lbs.
*please allow 2-3 weeks for delivery.